The Sustainable Womans feedback clinic
THE SUSTAINABLE WOMANS FEEDBACK CLINIC
| YEAR: 2016-ongoing | TECHNIQUE: conversation, performance |TIME: 60min |

THE SUSTANIABLE WOMAN GIVES YOU:
– Feedback on your project
– Coaches you in your private dilemmas
– Uses her skills and life experience to help you according to your needs and wishes
IN EXCHANGE FOR:
– A favor-in-return that makes her more sustainable
* In favor-in-return, she would like to have a massage, an Asian cooking course, matchmaking – help find a partner, some lunch boxes, PR and marketing, or an own proposal that makes her more sustainable.
** Instead of favor-in-return, fee of 750 kr / hr for private person is accepted, 1500 kr / hr for company (excl. VAT)
Book your appointment today!
In the sales sheet you can read more about the coach – The Sustainable Woman – and what she offers.
See also exhibition and feedback clinic at Steneby Konsthall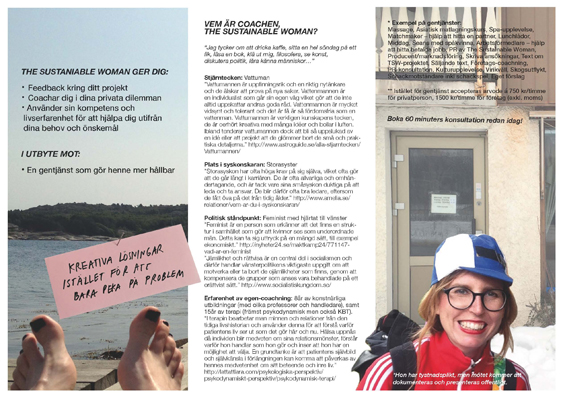 She offers consultations at her office in Gothenburg or by Skype. Contact her for appointment and more information.