What do you need help with, what can you contribute with?
WHAT DO YOU NEED HELP WITH, WHAT CAN YOU CONTRIBUTE WITH?
| YEAR : 2016 | TECHNIQUE : Processorienterad exhibition and performative events |
| TIME: 1 month |
I need help to become a more sustainable person, and to get paid for all the unpaid work I do. What do you want help with?
The exhibition at Frölunda Kulturhus raises questions about how we live our lives, around work and human value. It gives space to talk about social, interpersonal and artistic values ​​and exchanges.
The exhibition is an ongoing process, with different activities and events where visitors, invited guests, experts / researchers, associations are invited to participate, talk, exchange services, tips and thoughts, try out strategies and alternative economies.  Visitors can also take part in previous episodes of The Sustainable Woman project.
______
EXHIBITION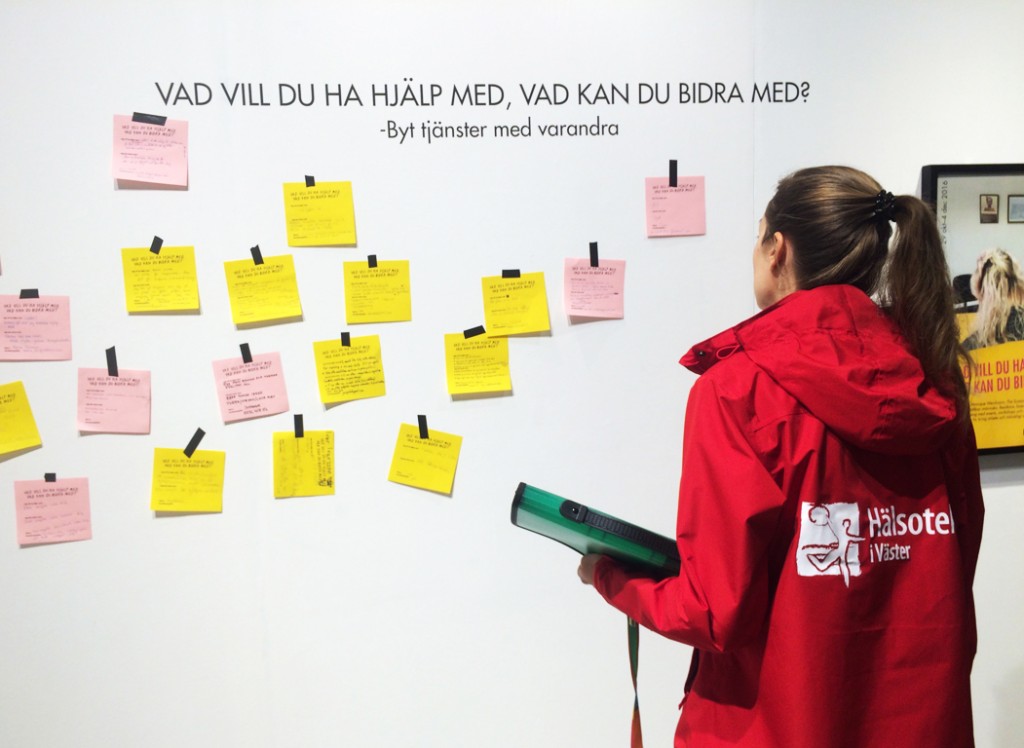 Interaktive wall  where visiters could exchange services.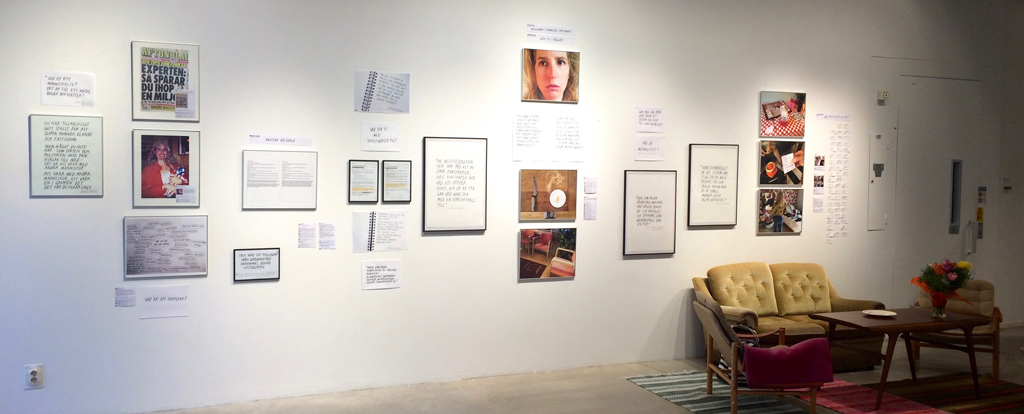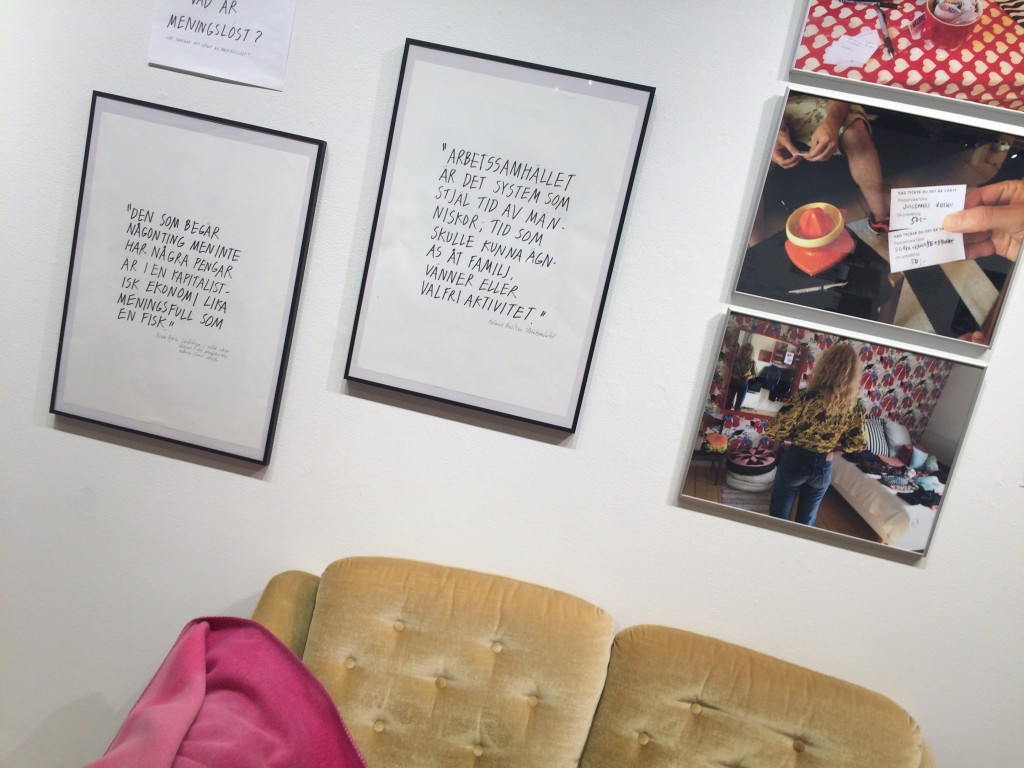 Free translation of the quotes:
"The one who asks for something but doesn´t have any money is in a capitalist economy as meaningful as a fish" -Nina Björk
"The working society is the system that steals time of people, time that could be spent on family, friends or any activity"  -Roland Paulsen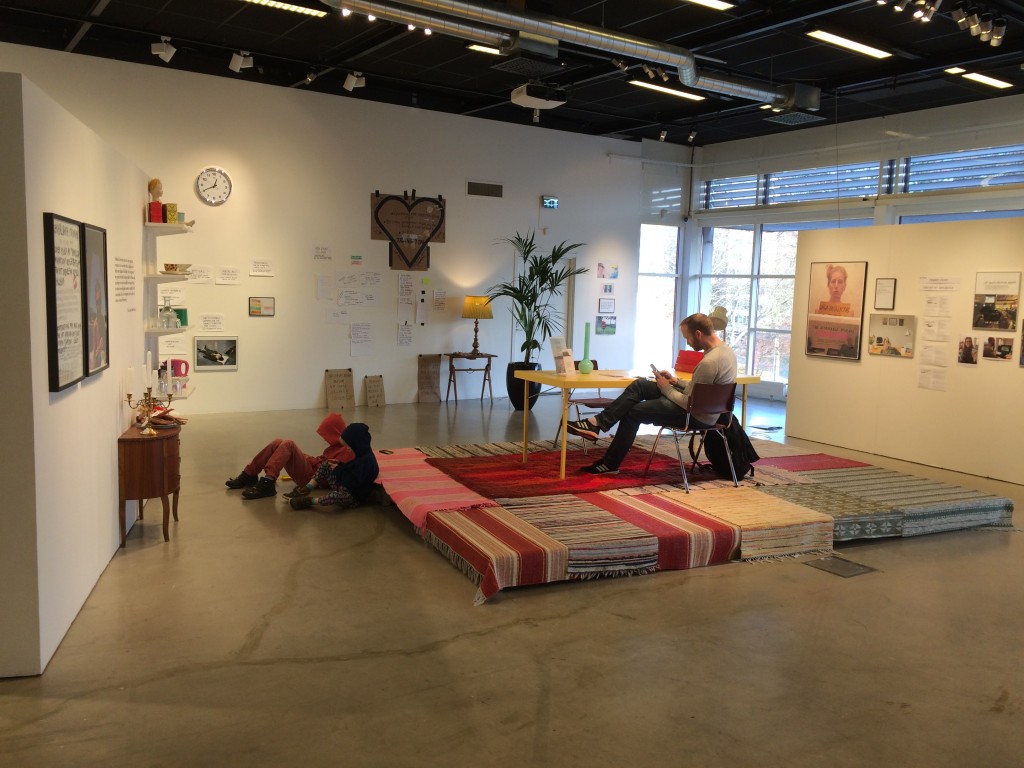 __________________________________________________________________________________
PUBLIC EVENTS

HOMEPARTY: WHAT DO WE NEED HUMANS FOR?
| Dialouge/performtive event | 60min |
Homeparty / dinnerevent around the question What do we need humans for?
People increasingly seem to be an inconvenience to what we call society; we are too many and we are too costly – are people becoming redundant in an increasingly economized and increasingly automated world? Stress and burnout is a consequence of the efficiency in working life. If we are no longer needed and we are breaking down to maintain, for example, social functions, what place, what strategies should we then find to continue live in a worthy way? Participant in the conversation: Ami Skånberg Dahlstedt, Lena Stark, Seroj Ghazarian, Helena Johansson, Prince Freï of Lorenzburg and The Sustainable Woman.
In the picture, the conversation has just ended and participant and audience continues to converse.
THE SUSTAINABLE WOMANS FEEDBACK-CLINIC
|
performativeevent
|
60min
|
The Sustainable Woman offers one-hours-consultations during the exhibiton period, in exchange för a favor in return that makes her more sustainable
*The feedback clinic is an ongong project, where she offers consultations in her home or by Skype.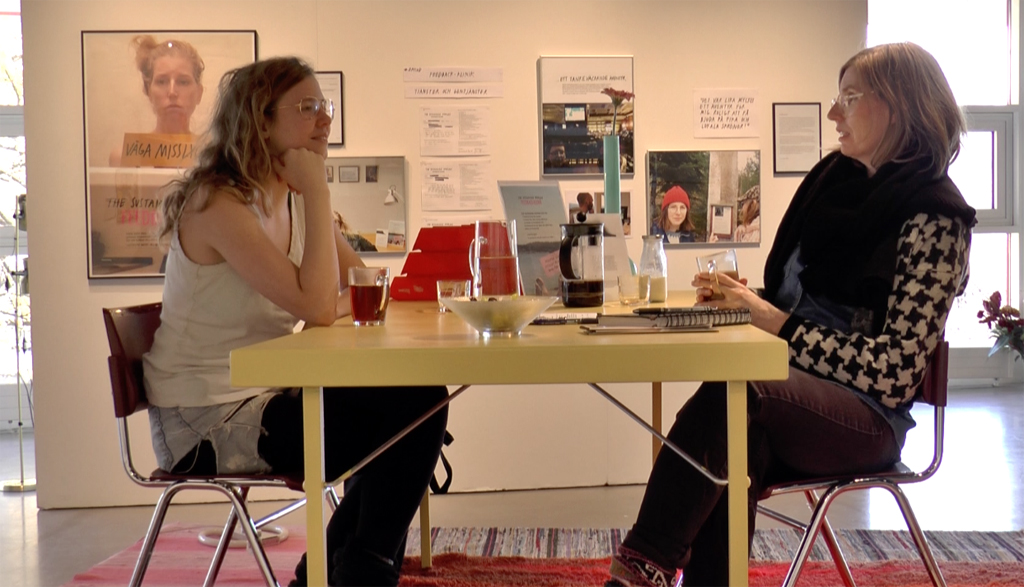 ____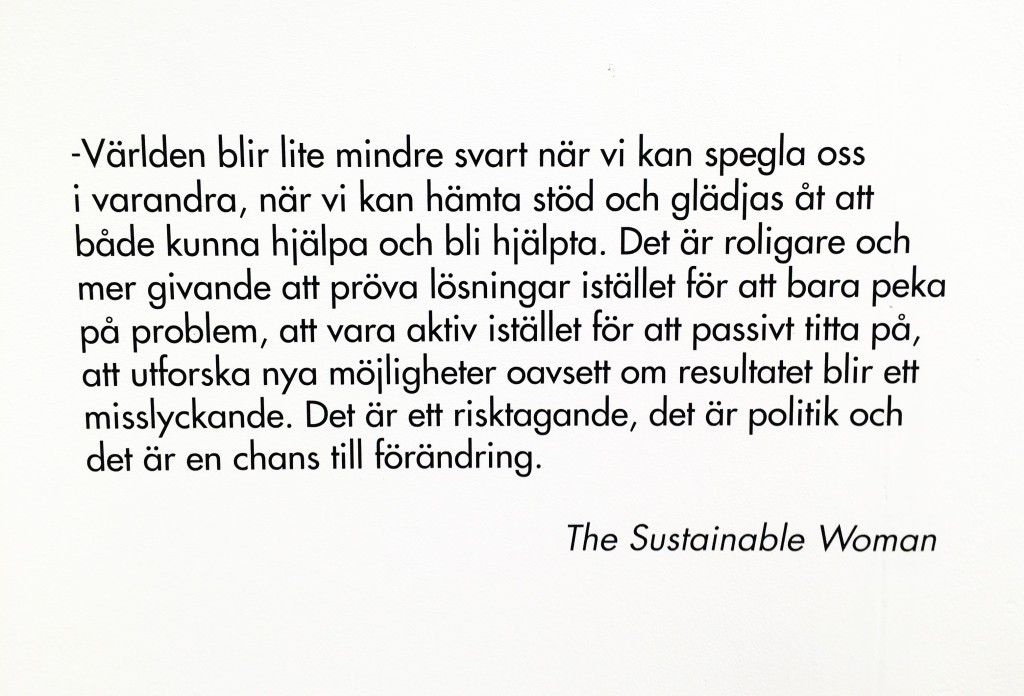 _____
WORK, GENDER AND LIFE  PUZZLE
| conversation | 90min |
Conversation with Birgitta Jordansson, Researcher, Department of Sociology and Work Science, GU and Linda Lane, Researcher, Department of Social Work, GU. What importance does work have for how we organize our lives – both in terms of payroll and unpaid work at home and in society? In dialogue with the visitors, work and working conditions in relation to gender division in families and society as a whole are discussed.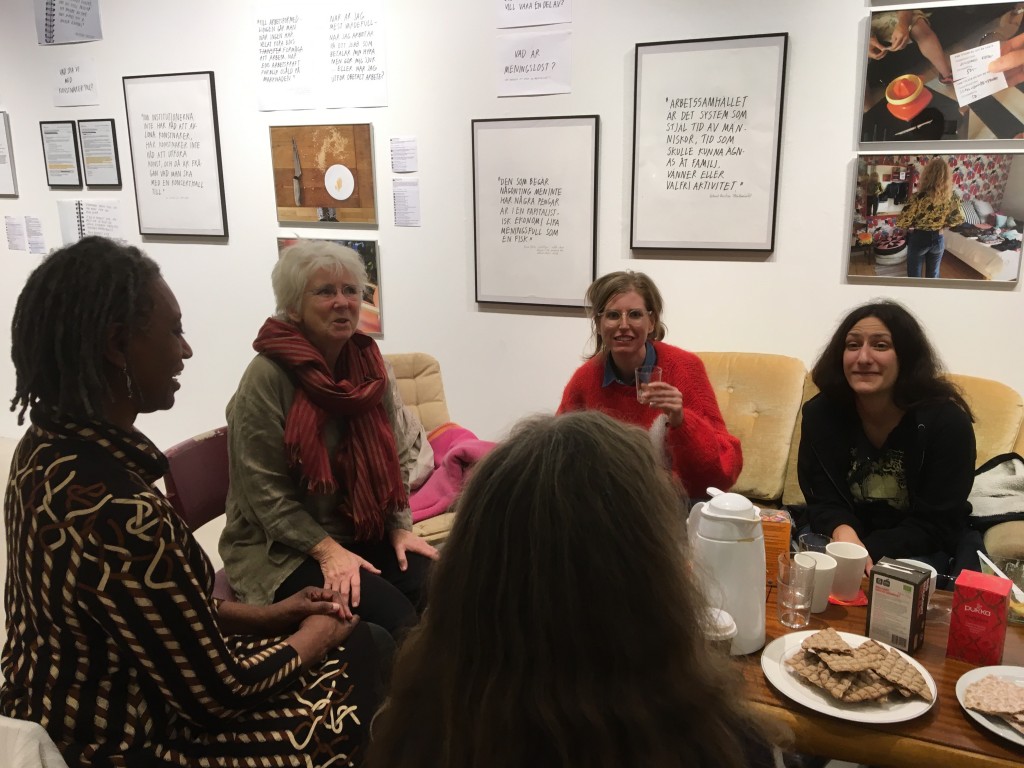 ______
WHAT DO WE NEED ARTIST FOR?
| panel discussion | 90min |
In a panel discussion, invited artists and cultural politicians are discussing  artists working and living conditions, artistic value and today's cultural policy.
The title of the talk refer to the fact that cultural institutions budget is usually not enough to pay off participating artists' work.
Participants in the conversation: Stina Östberg artist, The Sustainble Woman artist, Jörgen Svensson artist, Mikael Nanfeldt Culture Strategic Director, Gothenburg City, Mariya Voyvodova -Cultural Committee Chairman, City of Gothenburg, Lars Nordströn, First Deputy Chairman of the Cultural Council, Västra Götaland, Lena Ulrika Rudeke -moderator.