BETWEEN YOU AND ME – participatory driven processes and artworks together with youths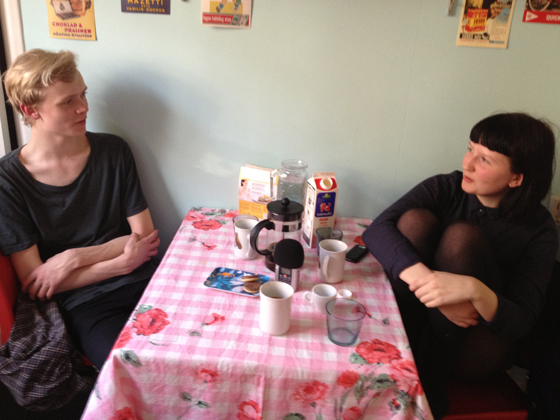 From a meeting with the youths in "The space of liberation", at home in my kitchen.

PERFORMANCE-LECTURE: BETWEEN YOU AND ME
| YEAR: 2014 | SIZE: 30min |
Graduation and presentation of two years work with participatory driven processes and artworks.
Glashuset Valand, Gothenburg University, 2014
MASTER THESIS: BETWEEN YOU AND ME
| YEAR: 2014 | Download PDF
BETWEEN YOU AND ME – PARTICIPATORY DRIVEN PROCESSES AND ARTWORKS TOGETHER WITH YOUTHS
| TILLKOMSTÅR: 2012-2014 | TEKNIK: Research, process, dialog, deltagande, relationella och performativa uttryck |

The work contains 3 different projects:
– SPEECH TO THE PEOPLE – Megaphone performance on a balcony over a square
– FRIRUMMMET (The space of liberation)
– BETWEEN YOU AND ME – Voices that moves across borders
In the work I were collaborating with different parts: Gothenburg Art hall, Culture school in Gothenburg, Youth initiative Arena 29, and Burgårdens Education centre. The work was also part of the MA-education Contemporary Performative Arts at University of Music and Drama, Gothenburg University, as I graduated from 2014.
Abstract from master thesis:
How can I make art that face people in their everyday lives, which is integrated into their lives, becoming a part of the discussions both in the mundane and in the room of society?
Can I do this by working with performative interpretations that are participatory driven?
I have explored how artists and participants can create spaces that are both open and confidence building, and how they at the same time enable us to question established norms. How to engage in dialogues concerning social, political and existential issues like; What is freedom for me – What is freedom to you? What is it that is important? Which topics are never upraised for discussion?
The project is about putting thoughts, experiences and bodies (my own, the participants and the viewer's) in relation to each other and to the location and context they are in. It's about creating a broader perspective where everyone's voice is important and can take place. It's about how we in a collective process can collaborate and create artistically through performa­tive expressions in an artwork in which they are participants/actors and I'm the artistic
director. I have also examined whether participatory driven projects is a good condition for creating interpretations that have a critical potential and not just becoming a "feel-good-experience" for the involved, an instrument to solve social problems or becoming a tool for learning. In the work I'll try if performative interpretations that are participatory driven are the way to drill into the real world – into the body of humans and the system that we operate under, and how to do so without compromise the artistic intention, ethics and aesthetics.