THE SUSTAINABLE WOMANS FEEDBACK-CLINIK # STENEBY
THE SUSTAINABLE WOMANS FEEDBACK-CLINIC # STENEBY
| YEAR: 2016 | TECHNIQUE: exhibition and performative event |
| TIME: 1 week |
The Sustainable Woman installs herself and her office at Stenebys Arthall. There she offers students, teachers and residents in Dals Långed one-hour consultations at the clinic in exchange for a service in return that makes her more sustainable.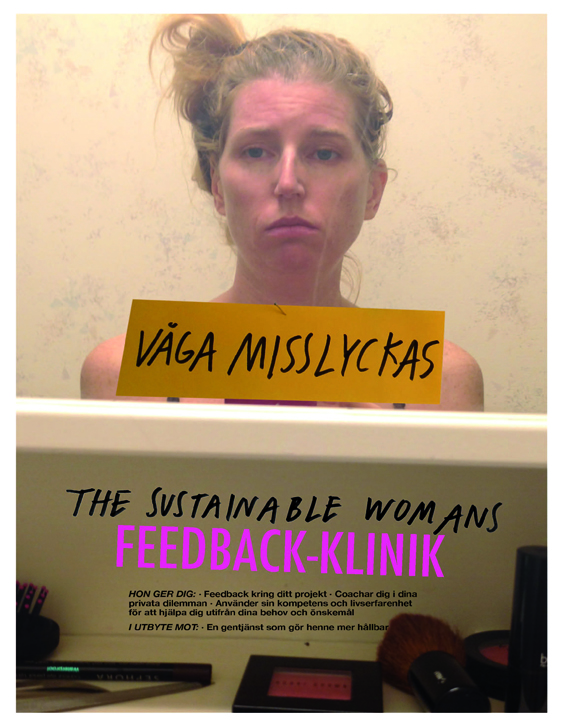 _______
CONSULTATION
Book your consultation by email or phone  from a schedule of bookable times.
"Hej!
Vill gärna boka in en tid med dig nästa vecka för att prata om hur ett hållbart liv kan se ut. Kämpar själv med att hitta en plats i det kapitalistiska systemet och undrar när vi alla kommer att se fördelarna med att utvidga gåvoekonomin.
Jag kan tisdag, onsdag eller torsdag så sent på dagen som möjligt.
Jag kan erbjuda dig något av följande:
'Nybakat bröd som levereras till dig på morgonkvisten lagom till frukost
' Välsydda kalsonger i strl L. Jag kan sy dem i svart, grått eller gräddvitt.
' En jacka jag köpt på Emmaus men aldrig använt, kan skicka bild om den är av intresse.
' Svarta vårskor.
Om A i min klass även får en tid hos dig kan vi tillsammans erbjuda dig en soppmiddag hemma hos oss, med nybakt bröd och vin. Kvällen till ära kommer vi att tända i vår spis. Middagen avslutas med punch och ev. facebook-stalking av potentiella partners.
Vänligen,
M"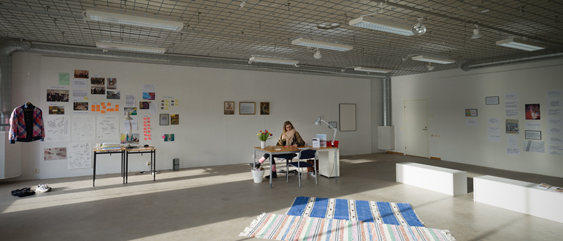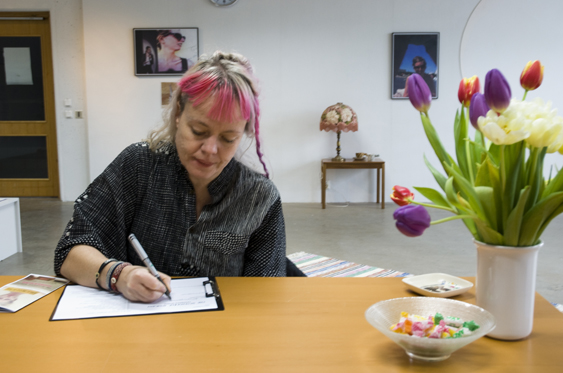 The consultation begins with the client filling in a form.
During the consultations, TSW dig in to other people's dilemmas. Straight in to what is urgent and what is sometimes most burning. One client relieves her heart, telling she hasn´t been sleeping for several days because performance and stress have taken hold of her life. Another expresses concerns about artist as profession and lifestyle and wants to discuss the role of artists and survival strategies for that. Someone want to discuss project ideas, another one ask "How can I make my degree work funny?" – I thought TSW would have a different perspective on it. Others want to talk about "what a sustainable life can look like and how you can find a place in the capitalist system " and asks questions like: "What is your thoughts about relationships and togetherness?", "Do you have any children?", "How can I raise my son to an equal man?"  TSW resonates and gives her thoughts during the consultations.
_____
FAVORS-IN-RETURN
After the week of consultations, the collecting of favors-in-return began.
The favors-in-return consisted of:
A cooking course (including dinner) of Vietnamese pancakes at  client's home, a music collection, a brain for applications, PR of TSW and an invitation to attend as guest in the client's forthcoming exhibition …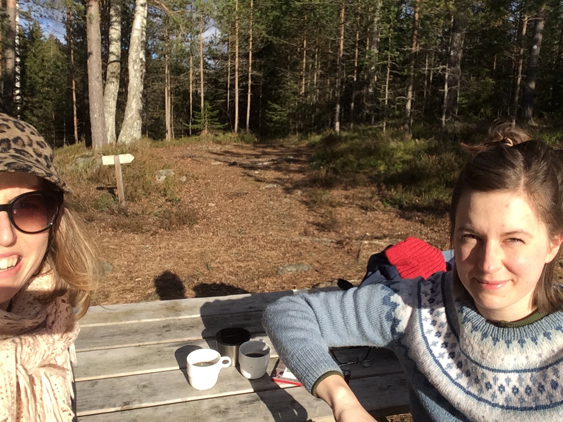 … a forest excursion with coffeebreak..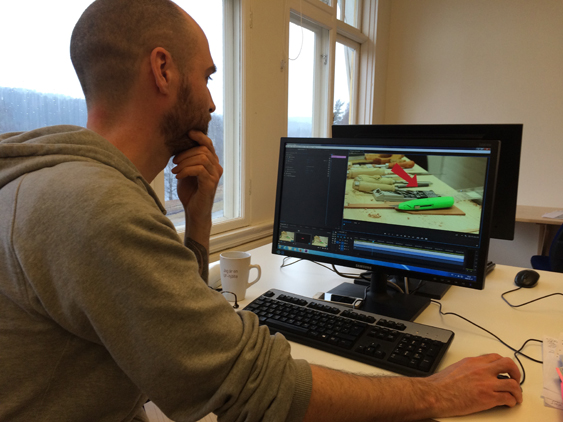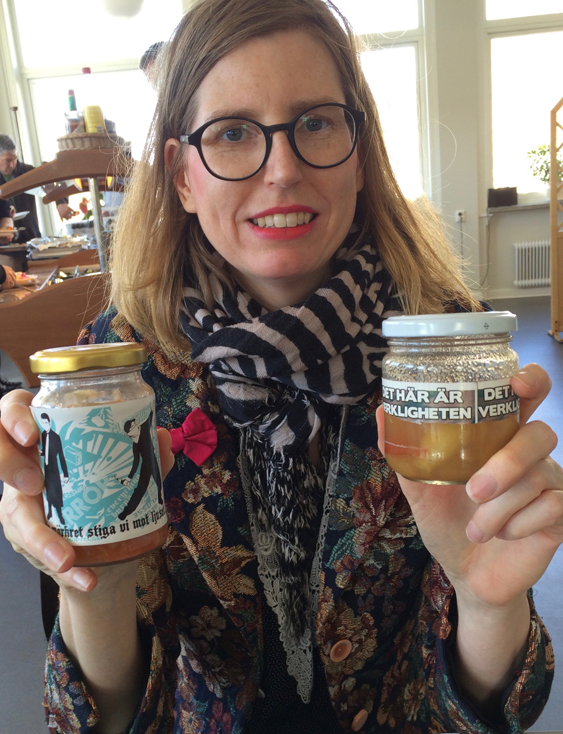 … a video editing course, a "survival kit" consisting homemade delicacies in cans with labels like "this is reality", "from the dark we rise to the light" …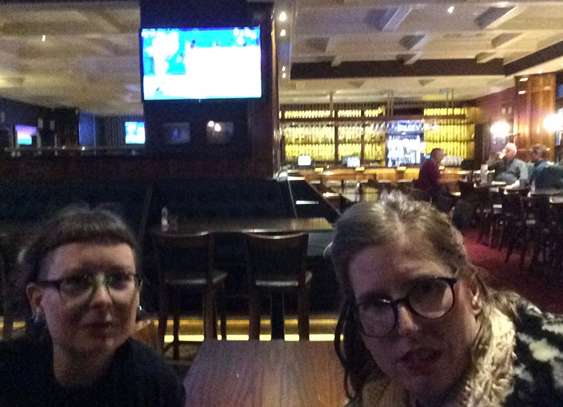 … a visit to Bengtsfors "gay club", reflective texts about TSW …
SALES SHEET
In a sales sheet you can read more about the coach – The Sustainable Woman – and what she offers.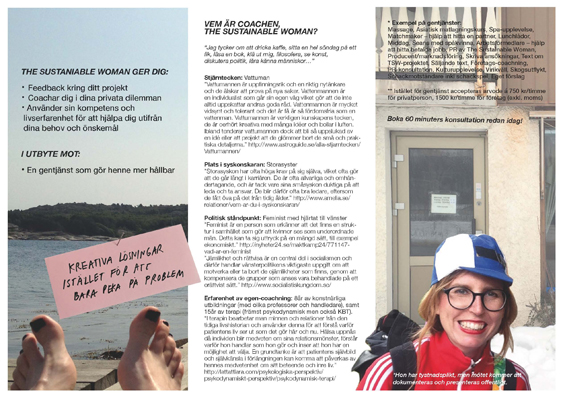 "The Sustainanble Woman gives you feedback on your project, coaches you in your private dilemmas and uses her skills and life experience to help you according to your needs and wishes." In service-in-return, she would like to have a massage, an Asian cooking course, matchmaking – help to Find a partner, some lunch boxes, PR and marketing of her, or her own proposal that makes her more sustainable. "

———
VISUAL INTERPRETATION

The exhibition hall has taken the form of a living room, an office and an exhibition in one. The exhibition showing issues that arise in The Sustainable Womans universe.
____
REFLECTIVE TEXTS

Some clients wrote texts about The Sustainable woman and her residence at Steneby as a favor in return. (In swedish)
"The Sustainable woman, Monique Wernhamns alterego, tar reda på vad hållbarhet innebär och belyser det som berör oss människor inpå livet. Det kan handla om det mest banala och hur det att vara människa i en komplex värld. Sådant som berör samtiden lika mycket som framtiden och vår historia. The Sustainable woman ställer essentiella frågor som berör relationer och vad som håller allt samman. Frågorna skapar ett eko av samtal när hon bjuder in till sina workshops. Det är något särskilt med rum som är öppna för tankar som delas. Samtalen för oss närmare till att förstå oss själva och varandra, våra behov och tiden vi lever i."
Jennifer Caneva
"När Monique Wernhamn kom till Stenebyskolan för att vara artist in recidence började hon tvåmånadersperioden med en performanceföreläsning. Hon förklarar att hon letar efter betalda uppdrag, samarbetspartners, nya vänner och kanske till och med en kärleksrelation. En bit in i föreläsningen, efter att hon instruerat oss i avslappnande ansiktsmassage och läst upp sitt cv, bjuder hon in oss till att ha lite roligt. Vi städar undan stolarna och så spelas Cyndi Laupers Girls Just Wanna Have Fun ur högtalarna och alla börjar dansa. Jag samlar snabbt ihop mina saker och lämnar lokalen. Det börjar kännas obekvämt. Menar hon allvar? Vill hon byta sin yrkeskunnighet mot vänskapsrelationer och matlådor? Hur marknadsekonomiskt inskränkt är jag som inte tror på henne? Jag går inte på fler av hennes workshops. Inte på hennes cookalong eller lunchdans, trots min nyfikenhet. Jag är själv för upptagen med att jobba.(…)
Det som kändes främmande i början av hennes vistelse klarnar. Hon vill överleva, och mera, i en värld där konstnärer förväntas klara sig på tacksamhet och dagdrömmar. The Sustainable Woman är på riktigt. Hon finns där det verkliga livet pågår. Hon är en överlevnadsstrategi och en utopi på samma gång."
Anna Bäckersten
REPORTAGE av skribenten Jonathan Malm
Mötesplats Steneby artikelserie #12: Hållbarhetskonsultationen
"– Världen blir lite mindre svart när vi kan spegla oss i varandra, när vi kan hämta stöd och glädjas åt att både kunna hjälpa och bli hjälpta. Det är roligare och mer givande att pröva lösningar istället för att bara peka på problem, att vara aktiv istället för att passivt titta på, att utforska nya möjligheter oavsett om resultatet blir ett misslyckande. Det är ett risktagande, det är politik och det är en chans till förändring."